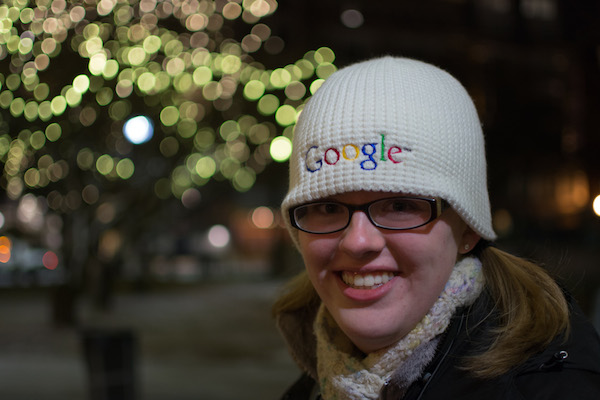 I am a fifth year Software Engineer at Rochester Institute of Technology (RIT), concentrating in Human-Computer Interaction and User Interface Design on the technical end and Literature on the liberal arts side. Web is my main focus at this point as it is so versatile. I choose to advertise myself as an engineer, despite my aspirations of becoming an interaction designer, because I think like an engineer but am passionate about creating smooth user experiences.
Last spring I studied abroad at the University of Limerick in Ireland! I absolutely loved living as a part of another culture. You can check out my adventures on my tumblr and flickr pages.
Outside of class, I'm involved in loads of clubs: Women in Computing (WiC), the Society of Software Engineers (SSE), RIT Pep Band, and the Honors Program. This year, I am the events head for WiC, have plans to run a project team for SSE, and hope to revive the SE Honors program (again). In the past, I was the Head of Public Relations for SSE. As a part of that role I spoke to companies and alumni about visiting to give talks, make donations, and about how awesome our members are. I also helped with all the open houses by talking about SSE, leading tours, and answering any and all questions sent my way. A new initiative I started is the SSE Ambassador program. Before the PR committee was a one-man operation. With the advent of the ambassador program, the PR committee is now an elite team of individuals trained to work with companies and interact with prospective students. I also started up a student-led initiative for the Honors Program within the Software Engineering department; however, it fell apart in my absence last year, so it's back to the drawing board there.
One of my passions has always been making music. I started playing piano at the age of 4 and joined my first choir when I was 9. Now as a college student, I play in the clarinet section of the RIT Pep Band. The band plays at all the Men's and Women's home hockey games and any other event we're invited to play. Check out some of our past performances on our YouTube Channel: TheRITPepBand.
I also love reading. I was raised on books, not TV and video games - shocking for someone in my field, I know. I'll read almost anything I can get my hands on, but my favorites are Jane Austen's Pride and Prejudice and J.K. Rowling's Harry Potter.